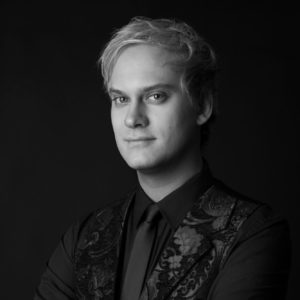 Sebastian began his musical journey when he asked his older brother to lend him his keyboard after wanting to learn how to play along to a track from a Batman video game.
After finishing high-school he enrolled at Furuboda folk high school and later on Malmö Music University, where he studied church organ, as well as classical piano and singing.
Sebastian later decided to leave the music university in order to focus more on his bands and his own music productions. Today he is the keyboardist for metal bands Eleine and Edge of a Circle, and have been featured as a musician on several other records as well.
In August 2016 he became an in-house writer at Roasting House. Sebastian has a passion for cool synth sounds and enjoy creating both intense and playful tracks, with an occasional ballad mixed in.